NEW NORDIC BEAUTY IN & OUT
New Nordic specialises in herbal supplements and beauty products based on extensive scientific proof. The New Nordic products work in harmony with your skin and body, they are effective and pure. Using tablets and creams with the same active herbal ingredients is a great way to treat your skin from both the inside and out, making this a new and hollistic way of taking care of your skin.
With this new beauty routine you support your skin's complete ecosystem both on the surface and under. This healthy and innovative approach is what Beauty In & Out™ is all about; a new and
revolutionary beauty treatment that provides exceptional benefits.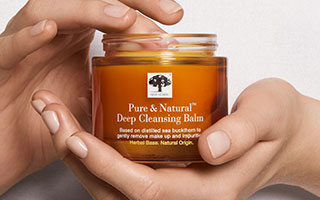 BEAUTY IN FOCUSING ON THE CAUSE
Beauty supplements work from the inside in harmony with your body, by reaching and affecting the living skin cells that cosmetics can't reach from the outside.
BEAUTY OUT FOCUSING ON THE SYMPTOMS
The new skin and hair care products by New Nordic have an instant cosmetic effect that gives a younger and more beautiful look and feel. This works in synergy with internal beauty supplements for optimal results.